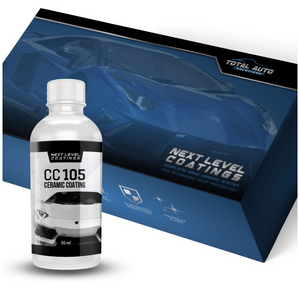 CC105 Ceramic Coating Warranty
Regular price $124.95 Sale
CC105 50ml Warranty Box is the Three Year Guaranteed SingleLayerSlayer. CC105 Ceramic Coating provides paint protection with previously unachievable levels of gloss, durability, scratch and chemical resistance.  CC105 is applied to car paint, plastic trim and bumpers with an easy one-step application ensuring three years of durable nano ceramic protection.  It's unique composite technology enables you to achieve a thick two layer coating with one easy application.
THE GREATEST attribute of CC105 is the ease of maintenance it provides.  When CC105 is applied, the nano composite structure forms a super slick hydrophobic surface.  Having a hydrophobic surface allows dirt to slide off the paint and will allow your automobile to self clean when drying through rain.  


visit the warranty registration section of Detail Supply App to add in customer information. Coverage is for reconditioning of area affected by environmental contamination and reapplication of CC105.