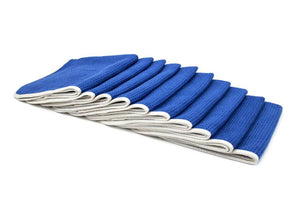 No Streak Freak 20% Off
Regular price $23.95 $18.95 Sale
Premium Microfiber Waffle Weave Glass Towel with Microfiber Edge Banding. 16"x16". Fold twice to make eight 8"x8" sections. Flip and fold the towel to a clean section when wiping. Use two towels, one damp and one dry. Clean the window with the damp towel, and finish with the dry towel. Lint and streak free.
16 in. x 16 in. | 400 GSM (Grams per Square Meter) | 75% Polyester - 25% Polyamide - 100% Split Microfiber | [MicroEdge] True Microfiber Edge Banding | Removable Sticker Label | 10 pack
PROFESSIONALLY PROVEN - No towel, baby diaper, newspaper can beat the [No Streak Freak] when it comes to cleaning windows and mirrors. We have spent over a decade and dozens of designs and professionals prefer this towel over all others!
WORKS LONGER - When it comes to cleaning glass a dirty or overly damp towel is the enemy. The heavy, 400gsm, waffle-weave microfiber can absorb more water, and dirt which means it can clean longer before you have to switch to a clean towel.
NO STREAKS - The edge is finished with a True Microfiber Edge [MicroEdge], which absorbs and cleans and you wipe. Other towels with non-absorbent silk, cloth, or stitched edges can leave streaks, or even scratch.